photo © Sandrine Champdavoine 
out JANUARY 28th 2022
LP + CD / CD / Ltd LP in handfinished sleeve
Movietone were part of the Bristol scene in the 1990's that contained Flying Saucer Attack, Third Eye Foundation and Crescent. Band members from all three of these bands played in Movietone, with Kate Wright being the main songwriter.
Signed to Planet Records, Movietone did their first John Peel Session a few weeks after the release if their debut single 'she smiled mandarine like' in 1994. They went on to do three Peel Sessions in total between 1994-1997 and moved to Domino Records and Drag City in 1997.
These sessions do not exist online and have never previously been heard by anyone other than those who listened to the original broadcasts! As Movietone are no longer making music (they have been succeeded by 1000 dawns), these archive recordings are even more special. They contain early or alternative versions of songs from Movietone's first three records:'Movietone',Planet 1995/Geographic 2004, 'Day and Night' Domino/Drag City 1997, 'The Blossom Filled Streets' Domino/Drag City 2000, along with a song from their pre-movietone days as 'Lynda's Strange Vacation'.
The last session is unique because Matt Elliott (Third Eye Foundation) is playing on them – he had left the band by the time that the album was recorded and released 3 years later.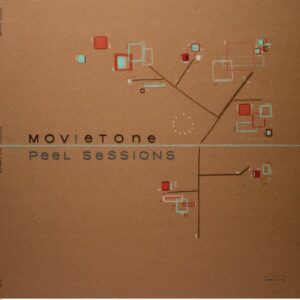 Two videos "Hydra" & "Summer" from the Peel Sessions, set to Super 8 footage of Movietone tours in Paris, Sweden, Norway and Holland are available
Tracklisting
Session 1:
Recorded on 12/05/1994
Broadcast on 18/06/1994
Mono Valley
Heatwave Pavement (CD only)
Darkness – Blue Glow
Stone (CD only)
Movietone started in 1993 after Crescent got signed to Planet Records and told Kate Wright that they looking for music from girls. Kate Wright and Rachel Coe (Flying Saucer Attack) quickly formed Movietone and sent them a demo tape. They were signed in 1994 but were quickly joined by Matt Jones (Crescent)on drums, Matt Elliott (Third Eye Foundation) on guitar and Ros Walford playing clarinet, with Kate Wright being the main songwriter for the band.
Before this, Matt Elliott, Kate Wright and Rachel Coe were in a band together called 'Lynda's Strange Vacation' although they never released any material or played any live shows! But the song 'stone' from the first Peel Session is a Lynda's Strange Vacation song.
On the second and third peel Session Movietone are joined by Florence Lovegrove on viola – All of Movietone met at school. Matt Elliott worked at Revolver records in Bristol where Dave from Flying Saucer Attack also worked. Planet Records ended up having their headquarters in the back of Revolver Records too.
The spring of 1994 Movietone had their first gig , first review in Melody Maker, first release (7 inch, 'she smiled mandarine like') and first Peel Session.
News of the first Peel Session came at last minute but the band couldn't contact Matt Elliott as he was on a road protest with no form of communication. Luckily he came back to Bristol the day before the Peel Session and everything was ok. The recording engineers at Maida Vale Studios let them record the sound of smashing glass in Matt Jone's Bass drum case for 'Mono Valley'. Songs on this session are early versions of songs that would be recorded for their first movietone record, which was recorded later that year, along with the song 'stone' from 'Lynda's strange vacation'.
Session 2:
Recorded on 28/01/1996
Broadcast on 10/02/1996
The Voice Came Out of the Box and Dropped into the Ocean
Blank Like Snow
Chocolate Grinder
Summer
The second Peel Session recorded in 1996 had early versions of songs from Movietone's second record 'day and night' which was released in 1997. Two songs from this session had different titles to their counterparts on 'day and night' – 'The Voice Came Out Of The Box And Dropped Into The Ocean' became 'Useless Landscape' and 'Chocolate Grinder' became 'Night Of The Acacias'.
'Chocolate grinder' is fairly different to the album version as it has Matt Elliott playing the b side of the 'Mono Valley' 7 inch (Planet Records, 1995), 'under the 3000ft red ceiling' on a record player in parts of it. Matt Elliott also played the Hammond Organ because the studio ( Maida Vale 3 )had a hammond organ available to play, (along with 2 pianos and a wurlitzer!).
Blank lilke snow has Matt Elliott playing guitar on it.
Session 3:
Recorded on 31/08/1997
Broadcast on 30/09/1997
Hydra
The Blossom Filled Streets
Facing West from California's shores
The Third Peel Session was done on the day that the BBC announced Princess Diana's death and the day had a strange atomosphere to it, it was also pouring with rain. The BBC were not sure whether the Peel Session recording would go ahead, but after many phone calls they said it was on. Movietone only managed to do 3 songs rather than their usual 4 though as they arrived late!
The songs recorded were really early versions of songs from 'The Blossom Filled Streets' which would be released in 2000. 'Facing West from California's shores' became 'In a Marine Light'. Both this song and 'Hydra' are very different to the songs recorded on the record as Matt Elliott is playing on them – he had left the band before 'the blossom filled streets' was recorded, so to have him playing piano on it is very special.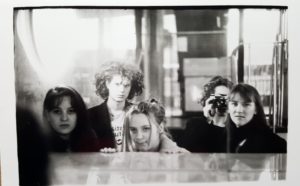 Photo © Matt Jones